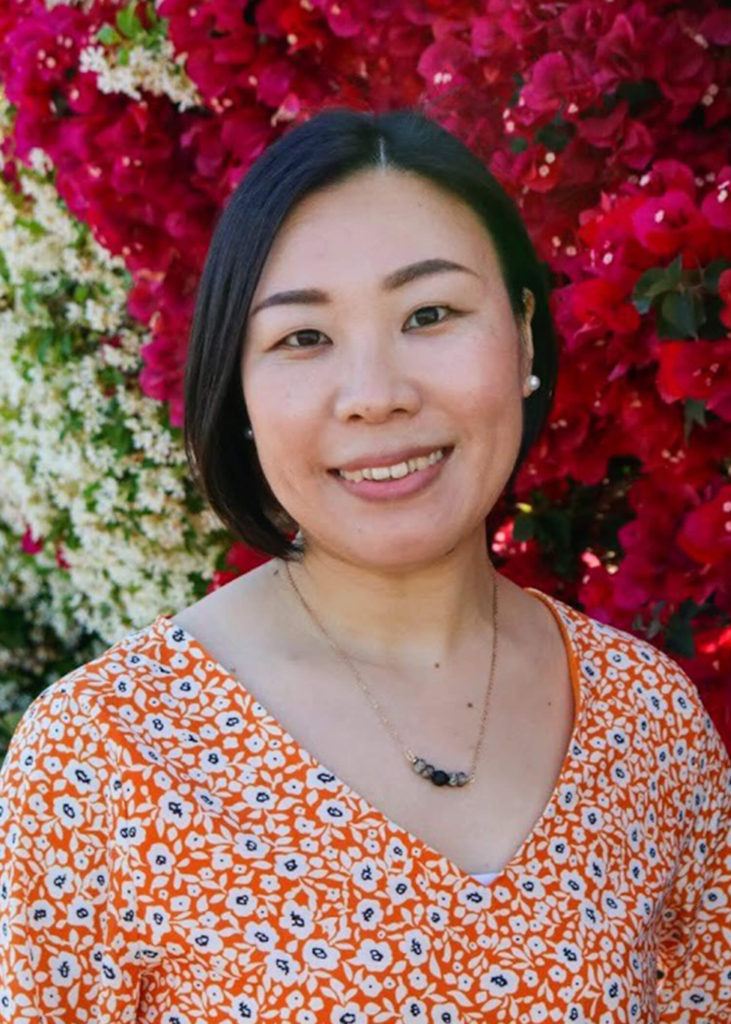 Asuka Garcia, LCSW
Adult & Family Therapist
As a minority and Asian immigrant, I am passionate about providing a space for other first generation immigrants to safely process their daily struggles such as anxiety and depression, trauma while being away from home, and even those struggling with chronic illnesses.
Pronouns: She/Her
Location: Online
Language: English & Japanese
Fee: $195
Sliding Scale: Available
Insurance: Can provide superbill for PPO plans
Accepting New Clients: Yes
Populations:
Specialties:
Anxiety & Stress Management
BIPOC & Asian American Experience
Chronic Illness/Pain
Family Therapy
Grief & Loss
Trauma & PTSD
Hello! I'm Asuka and I am here to help you create the life that you've always wanted for yourself.
I learned at an early age that mental health struggles can affect anyone as I lived alongside someone who faced them. And during those years, as I was growing up, I saw how those mental health struggles could affect the quality of their life as well as everyone else that they interacted with.
It led me to understand how important it was to recognize when something is impacting your mental health, and how to implement self-care, emotional wellbeing, and more into my daily life. But I wanted to do more than just help myself and my family to recognize and implement these things. I wanted to help others as well.
I knew that not everyone had as strong of an understanding of what mental health was or why it was so important, and so I began my education in psychology and counseling before achieving my Master's in Social Work with a concentration in mental health.
When you work with me, you work with someone who has walked where you are.
I grew up in an environment where mental health struggles were part of the daily environment, and this allows me to lend unique compassion and empathy for each of my patients. More than that, I can relate to many of the different types of mental health struggles you may be facing.
As a family member of someone who struggled, and as a first-generation immigrant, I can work with you to understand your experience and how to overcome your experiences, whatever they may be.
My goal is to create a calming, grounded, safe, and supportive environment where you can feel comfortable sharing your experiences; the good, the bad, and everything in between. And this is the type of environment that I provide for those in all areas of the population, especially adults and seniors, as well as those with serious mental health issues, veterans, or those in the Asian culture.
We can build a path forward that works for you and the life you want to live.
We will work together to create a safe and healthy environment that allows you to process your emotions and feelings in a way that feels most comfortable for you.
Through a client-centered process, we will work together to understand you and what has gotten you to this point in your life.
Through a strength-based approach, we will work together to understand where you are strong and how those strengths can be cultivated and improved to aid in reaching your goals.
Through a recovery-based approach, we will work together to understand where you want to go and just how you can get from where you are to where you want to be.
By combining all three of these approaches I will help guide you through the process to achieve your goals.
Therapy for Anxiety and Depression
You are someone who may find yourself worrying about things that haven't happened yet and may never happen. Or about something that happened a long time (or a short time) in the past. Or you might find yourself experiencing periods of intense sadness, loneliness, and other symptoms of withdrawal.
You may be experiencing anxiety and/or depression, which can have a profound and negative impact on your life. You may have been told to 'snap out of it' or 'stop worrying so much but it's not that simple, much as you might wish that it was.
Instead, this therapy will focus on the roots and the origin of your anxiety and depression to help you understand what has led you to this place. Then, we'll work on ways to overcome those feelings and how to deal with them when they pop up unexpectedly. The goal is to allow you the freedom to live the life you want, free of anxiety and depression.
Therapy for Trauma and PTSD
You are someone who has experienced something extremely difficult in your past. You may have been in war, or you may have been victimized in some way including physical or sexual assault. You may have experienced any type of traumatic event that has changed the way you view the world around you.
You may have been told things like 'you just have to let it go' or 'just get over it but those things are not easy and even when you try to put it behind you the trauma pops up again randomly, interfering with your daily life. You feel like you can't enjoy the things that are happening around you, even when you really want to.
With this type of therapy, we will look at the source of your trauma, the event itself. And then we will look at different situations, experiences, and more that may trigger an automatic response and put you right back in that same place again. From there, we can work on techniques, skills, and coping mechanisms that can help you work through your trauma in a healthy and positive way.
Asian and Asian American Mental Health Therapy
You are of Asian descent, either as a first-generation immigrant to America or as a child or even grandchild or more of someone who immigrated to the country. Despite living here for any length of time, you still feel like you are being pulled in different directions toward your culture and your heritage but also toward being a 'traditional American.'
You may have heard things like 'have you forgotten your roots' or 'this is America' which only serve to make you feel even more torn and conflicted. These comments may come from parents and siblings who want you to 'stick to your roots' as well as from those in your community or elsewhere who want you to be 'more American.'
This type of therapy will look at the pressure that you may feel from both sides as well as internally and will allow you to understand your own self-image as a result. You will be able to understand your own mental health, how to improve it, and why it's so important to break free of the Asian stereotypes of being a 'model minority' or that it's 'not okay to speak out about mental health problems.
Therapy for Intercultural & Multicultural Relationships
You are currently in a relationship with someone who is not from the same cultural background as you or who comes from a mixed cultural background. You may be dating, married, or anywhere in between. You may have been together for a long time or a short time, but you are not feeling as though you are fully understood by your partner.
You may have heard things like 'that's not the way we do things' or 'why can't we just all get along?' But both of these can be difficult when you feel like you're being pulled in different directions. You may feel like your partner doesn't understand you, and they may feel the same way as you're both struggling to bring your own culture and background into the relationship.
With this type of therapy, we will explore the foundation and origin of the struggles in your relationship so we can better understand your goals and your partners' goals. Then, we will work on developing a plan and a path forward that allows both partners to feel comfortable, supported, and in touch with the culture that matters to them.
No matter what you are experiencing, you and I can come together to create the path you need to reach where you're going. You deserve a therapist who can meet you where you are right now, and help you grow and move forward with your life.
There is no place for shame or guilt about your life, your lifestyle, your thoughts, your feelings, your emotions, your relationships, or your mental health overall in your positive future. And together we will help you to understand and truly experience that.
Who I am and what you should know
I completed my Master of Social Work program in 2012 and began working with a housing program for homeless veterans in the state of Hawaii. For four years I worked with these individuals, helping them achieve housing. The experience also put me directly in contact with individuals who struggled with PTSD and trauma.
After this, I traveled to San Diego and have worked with different community case management programs, which has further allowed me to understand the trauma-informed perspective. It also helped to develop the methods of treatment and care that I use even today, which include recovery-oriented, and solution-focused treatments, as well as crisis interventions and motivational interviewing techniques.
I provide my clients with CBT and DBT techniques, as well as mindfulness strategies throughout the course of treatment. I also draw from psychodynamic and attachment approaches.
Now, I am more than happy to join a private practice and work with the adult population, as this has been my goal since completing my Master's degree.
When I'm not working with patients, I love spending time by myself or with my close group of friends and family to enjoy good food and good coffee. Not only that but I enjoy Taiko, which my husband and I do together as a performance team called Genbu Daiko.
I am part of a book club, a facilitator for Anti-Racist Discussion Club for Japanese Clinicians, and a member of the NASW so-Cal API Council.
If you are looking for a therapist who can help you overcome trauma, anxiety, depression, or other mental health struggles then reach out to me and set up an appointment so we can get you on the path you want to be on.
Registered California Board of Behavioral Sciences Number: LCSW 104455