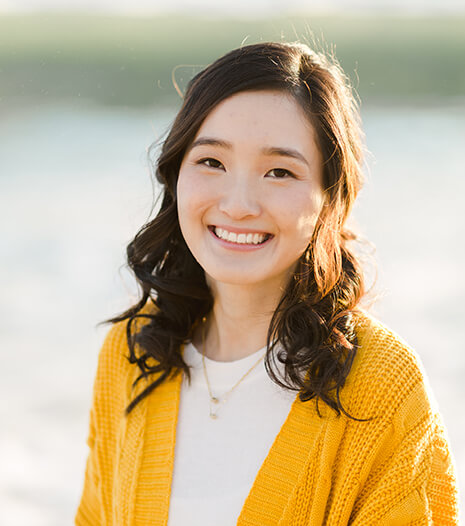 Linda Yoon, LCSW
Therapist & Founder of YCC
Pronouns: She/They
Language: English
Fee: $250
Sliding Scale: Limited
Accepting New Clients: Limited
Populations:
Specialties:
Anxiety & Stress Management
BIPOC & Asian American Experience
Burnout & Perfectionism
Creatives & Highly Sensitive Person
Teen & Adult ADHD
Trauma & PTSD
Life can be so overwhelming sometimes, right? It's like everything is coming at once, leaving you feeling just exhausted. You're a pro at taking care of everyone and everything around you, but taking care of yourself often gets pushed aside. And let's face it, that constant "go, go, go" can lead to anxiety, burnout, or even traumatic experiences. It's no wonder you're feeling tired and unsure of what to do next.
What you need is a place where you can just be, where you can slow down, relax, and find your voice. As your therapist, I'm here to create a non-judgmental space for us to explore, process, and overcome any obstacles that are holding you back. Together, we'll get you on track to living the life you truly want.
I've been doing this work for years, and I've helped lots of individuals and couples like you find healing and life journey that feel more authentic to them. It's time for you to prioritize yourself and find that spark of inspiration again. It's time to take care of YOU and discover all the amazing things life has in store for you. As your therapist, I'll be right by your side, cheering you on every step of the way.
Why Choose Therapy?
Welcome to a space that's all about you. Therapy is a journey tailored to your needs, motivations, and the change you aspire to achieve. I'm here to be your guide, providing a safe and nurturing environment where you can slow down, gain insights, and embark on the path of personal growth and transformation.
Many of us turn to therapy for various reasons, often due to the overwhelming stress and anxiety that life throws our way. Relationships can become challenging, personal issues may feel insurmountable, or significant life transitions can leave us feeling lost and unable to cope.
However, there are also those who seek therapy proactively, before crises strike. They strive to create more fulfilling lives aligned with their values and goals, even when they are not in immediate distress.
No matter what brings you here, pain is often the driving force. It can range from subtle discomfort to profound despair. People seek therapy with the hope of finding relief, a solution to their struggles. And that's precisely what therapy can offer.
Embarking on the healing process can be daunting, perhaps the most difficult step of all. But fear not, for I am here to assist you. Together, we will build momentum, find direction, and establish accountability on your journey. After all, if making changes were easy to do alone, you would have already accomplished it!
I will walk beside you as we take the necessary steps to reclaim your life and restore your relationships, both with yourself and with others. Let my energy and expertise join forces with your desire for change.
Together, let's uncover the voice that feels truest to you, more genuine, and aligned with your essence. You can take a leap towards the transformative change you crave, surpassing the barriers that have held you back. Through therapy, you have the power to reclaim your life and thrive.
You can take a step toward the change you crave — discovering and moving beyond what has been holding you back. It can help you to reclaim your life and thrive.
Hi, I'm Linda!
Growing up as a child of immigrant parents was no easy journey. They had high expectations for my sister and me, and I understood that they had made tremendous sacrifices for our future. However, we didn't fully grasp how the weight of generational trauma, dysfunctional family patterns, abuse, violence, and the pressure to assimilate were impacting our mental health. For the longest time, my parents were resistant to seeking help due to shame and stigma. But deep down, we knew that something wasn't right.
As someone who identifies as highly sensitive and empathetic, navigating through those challenging experiences was traumatic. I realized there was a significant gap in services and support within immigrant families and communities. That realization inspired me to pursue studies in social work and mental health. After obtaining my advanced degree, I dedicated myself to working in various community settings, with a specific focus on supporting Asian Americans, immigrants, refugees, and survivors of abuse and violence.
Another area close to my heart is working with adults with ADHD. I help individuals to understand what ADHD is and how it shapes their self-narratives and relationships with the world. As an adult with an ADHD diagnosis myself, I intimately understand the profound impact it can have on one's sense of self and how they navigate life. Finding a therapist who truly comprehends the struggles can be life-changing. Together, we can untangle those painful narratives that have held you back, replacing them with new narratives that embrace acceptance and self-compassion.
There is such a profound power in the therapy process of finding and owning your story. And I'm here to provide you with the guidance and support to connect with yourself, find healing, discover your voice, and live a life aligned with your values and authenticity.
Education & Training
I have worked with individuals, couples, and families who are going through all sorts of seasons — from difficult life transitions to experiencing traumas.
I am an RYT 200 yoga teacher, EMDR therapist, Prepare & Enrich facilitator, and Gottman Couples Therapy I & II trained therapist.
I also draw from training in psychodynamic, attachment-based therapy, Internal family system (IFS), Brainspotting, and Sensorimotor Psychotherapy approaches, Somatic Experiencing, Acceptance and Commitment Therapy (ACT), and Dialectical Behavioral Therapy (DBT).
I am always amazed to witness how resilient my clients are. And how they already had what it took, they just needed some guidance, support, and tools along the way. And it's truly a privilege for me to share that journey.
If you are ready to take a step toward change, make an appointment today.
Registered Board of Behavioral Sciences License Number: LCSW 85339